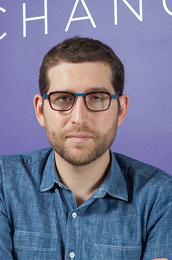 David Muraskin
David S. Muraskin is a Food Project Senior Attorney with Public Justice in Washington, D.C. He focuses on impact litigation to promote sustainable alternatives to the industrial animal agriculture system.
His docket consists of constitutional, consumer, worker, and environmental cases.
Of particular note, he is lead counsel in two of the "Ag-gag" cases—a series of challenges to state laws that penalize investigations of factory farming. In that role, he secured the first appellate court decision holding that those investigations are protected by the First Amendment, and obtained a judgment striking down portions of the Wyoming Ag-Gag statutes.
David also represents ranchers, farmers, and consumers who are being exploited by corporate consolidation in the food industry. For example, he represents the nation's largest association of independent ranchers in suits concerning the advertising and labeling of beef. And, he is counsel in two antitrust cases on behalf of poultry growers against Tyson and other integrators.
David speaks regularly on the legal and structural barriers to a more fair, transparent, and equitable food system. He also served as an Adjunct Professor at Vermont Law School, where he taught on food justice, and is currently an Adjunct Professor at Georgetown University Law Center, where he teaches on the procedural and strategic considerations in complex civil litigation.
Prior to joining Public Justice, David prosecuted first-of-its-kind qui tam litigation, served as the Alan Morrison Supreme Court Assistance Project Fellow with Public Citizen, and clerked for Judge James L. Dennis on the United States Court of Appeals for the Fifth Circuit.
David graduated from Stanford Law School with Distinction, has a Master's in Forced Migration from Oxford University, St. Antony's College, and received a B.A. from the University of Chicago with highest honors.